Article Author – Stock Photos
Marketing and advertising are all about traffic, engagement, and reach. Many websites have fantastic products, but they still don't get enough traffic or sales. Why? The answer is simple.
They don't put enough effort into their visual marketing.
No marketing campaign is complete without images. A survey found that posts with images are more likely to get 650 percent more engagement than posts with only text.
However, many businesses lack the resources or budget to source their own images. That's where stock image can help. There are a wide variety of low-cost stock photos available on various websites. The idea of these images is usually cliched as low quality, cheesy, and generic, which is not true.
In fact, there are various websites where you can find high-quality, cheap stock photos for your marketing and ad campaigns.
Here, we have created a list of 12 websites that offer high-quality stock photos at an affordable cost:
1. Shutterstock

Shutterstock is the most popular platform for finding high-quality and affordable stock photos. It is a host of over 100 million royalty-free images. 200k images are contributed every day, which means you'll never run out of options.
Features
Shutterstock's AI-powered search tool lets you find the most relevant image for any entered keyword. However, this feature is only available in subscription plans.
Various filters allow you to narrow down the images to your liking. These include 'Type', 'Orientation', 'Color', 'People', 'Usage', 'Authentic', and 'Image Size'.
'Similar Images' is among many other helpful tools that Shutterstock offers. So, when you preview an image, you see all similar images listed below it. And you can choose the one that seems more relevant for your project.
Shutterstock and Facebook have teamed up to allow advertisers to access Shutterstock's image library in Facebook's ad creation tool. They can test and try up to six images simultaneously and finally choose the best one. There is no extra fee.
The BEST VALUE monthly image subscription of Shutterstock starts at $29 for ten images per month.
You can also avail a 30-day trial. This free trial gives you access to ten images for a month. Plus, you can avail fantastic discounts by using a Shutterstock coupon.
It also offers exclusive plans for teams and enterprises. Small and medium-sized enterprises can get more personalised pricing plans through Shutterstock Flex and Flex Premium.
2. iStock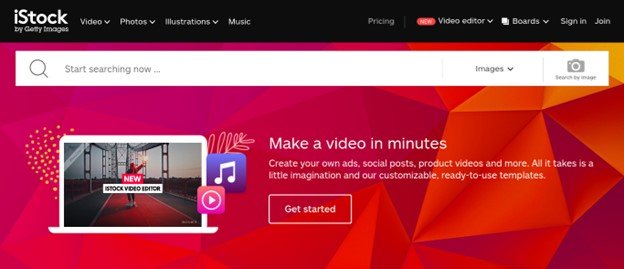 iStock is another excellent website for affordable premium quality stock imagery. It has an interface similar to Adobe Stock.
Features
The site has two collections of images, Essential and Signature. Essential images are the everyday use pictures, while the Signature collection has trending signature images that you won't find anywhere else.
It also shows you Trending Searches and Popular Categories to help you stay updated and make the right choice.
Another excellent category that iStock offers is Diversity and Inclusion Sets, which ensures everyone feels valued on the site.
As part of every subscription plan, you will have access to iStock's editor, where you can edit and customise images according to your needs.
iStock also provides boards to organise and share files. This feature comes in handy for teams collaborating on projects.
The iStock plugin also allows you to access it directly from Dropbox, Sketch, and Adobe Creative Cloud.
It gives a free trial for 30 days. The best part is that you get to keep the images even if you cancel your subscription during the trial.
The Basic package starts at $29, allowing you to download 10 Essential images per month. No matter what subscription plan you have, you get a full refund if you change your mind and haven't used more than five images.
Different credit packs are also available, ranging from $12 for one credit to $2400 for 300 credits.
3. Canva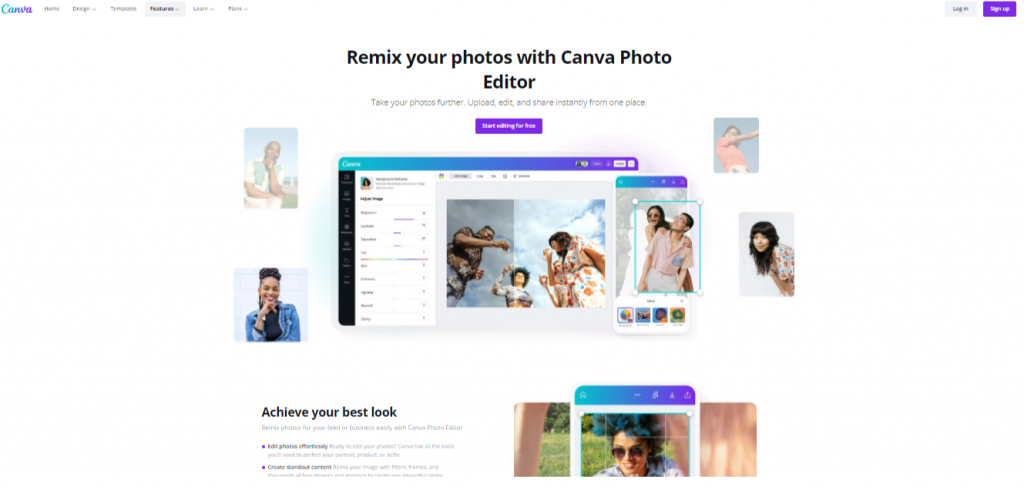 Although Canva is a well-known online graphic tool, it gives access to millions of affordable and high-resolution stock photos.
Features
Canva has its own editor with various editing tools, including fonts, effects, filters, templates, logos, resizing, and animation. You can directly search images while staying in the editor, which saves you from the hassle of switching between multiple tabs.
Its premium plans also come with brand kits, content planners, and 100 GB of storage.
You can share images with your team members to collaborate and work on the same projects.
Although its Basic package is free for all, you can avail more exciting stock photos and editing features through its Pro plan, which starts at $6.49 per month for a team of 1-5 people.
4. Adobe Stock

Adobe Stock is another popular platform for finding high-quality stock photos, videos, audio, and illustrations. Adobe Stock is a great stock resource for those designers and content creators who prefer using Creative Cloud for their projects.
Features
The site's interface is readily usable for everyone. Its search tool is powered by Adobe Sensei, making it easier for you to find the most relevant images.
It might be slightly pricey for individuals and freelancers, but it is a good option for agencies and companies.
Adobe Stock offers both credit packs and subscription plans. Its credit pack starts at $49.95 for five images. The most popular subscription plan starts at $29.99 per month with ten standard assets and a risk-free 30-day trial.
5. 123 RF

123 RF is another stock site that is relatively new and unknown among designers and marketers. However, it provides access to high-resolution stock photos at reasonable prices. It has various categories of images, including all possible genres.
Features
123RD also enables you to use its add-ins for Adobe and Google, which is an additional advantage for content creators.
However, it lacks editing tools and advanced filter features.
Its Best Value subscription plan starts at as low as $0.48 per image and allows you to use 250 photos for $169 per month.
6. Bigstock

Bigstock is a popular cheap stock website with a massive collection of royalty-free stock images.
Features
Bigstock offers various subscription plans to accommodate all kinds of users.
Its monthly subscription starts from $79 for 150 images at $0.53 per image with a limit of five downloadable pictures per day.
It also has a crediting system. You can buy ten image credits for $35.
You can re-download images at any time.
You can ask for a refund if you change your mind.
BigStock also offers a 7-day free trial.
7. FreePik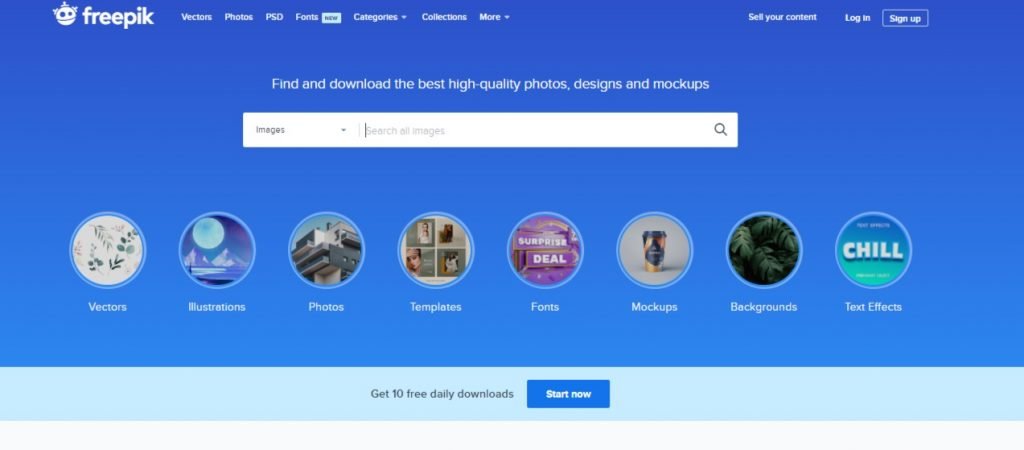 Freepik offers a vast collection of high-quality, affordable stock photos.
Features
The website features numerous categories and collections that make it easy to find relevant photos more quickly.
You can refine search results by different options like the licence type, colour, people, etc.
Its premium subscriptions are pretty inexpensive, starting from €9.99 per month. You get access to unlimited photos with a daily downloading limit of 100 images.
Conclusion
To sum it up, your target audience is less likely to engage and make a purchase if your content lacks visuals. Instead of getting professional photography, you can always rely on websites that offer a vast collection of amazingly affordable stock images. Our list will help you choose the best photo sites. Make sure you do your research, find the best quality photos, customise them to reflect your brand's voice, and see an increase in engagement and ROI.